185 Asylum Street, 25th Floor
Hartford,  CT 06103
Thank you Marcum LLP for taking our mailbox with you in your move and continuing to provide accounting support.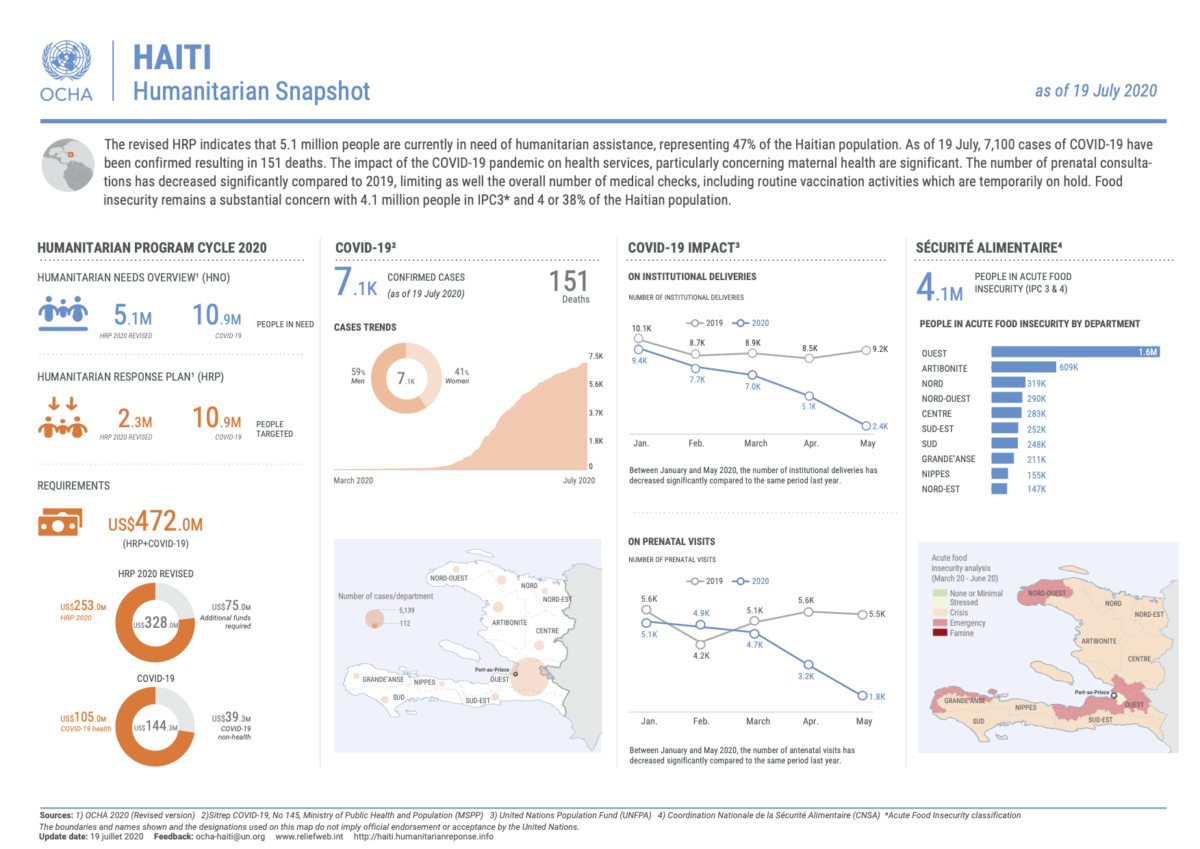 Update 23 Jul 2020
(www.humanitarianresponse.info/en/operations/haïti/infographic/haiti-humanitarian-snapshot-19-july-2020-fr-en)
As shown above, the United Nations Office for the Coordination of Humanitarian Affairs paints a dire picture of the impact of COVID-19 in Haiti.  MATH-supported projects are in the Grande-Anse region – Hôpital de la Communauté Dame-Marienne (HCDM), and in Ouest region – Centre Medico-Chirurgical du Quarter (CMCQ) / Hôpital Bellevue-La-Montagne (HBLM).
Thanks to your generosity, the clinics and hospitals remain open and the medical teams continue to serve the villagers most in need.
— All staff members are tested regularly for COVID-19 and are vigilant in following guidelines for use of PPE, as well as cleaning / sterilization at the facilities.
— Each project has had one staff member contract COVID-19 and recover.
— Severe patient cases are transferred to the COVID-19 centers in Port-au-Prince and mild cases quarantine at home.
— PPE Inventory remains limited, with a single set (mask, gloves and gown, not including face shield) costing $7.72.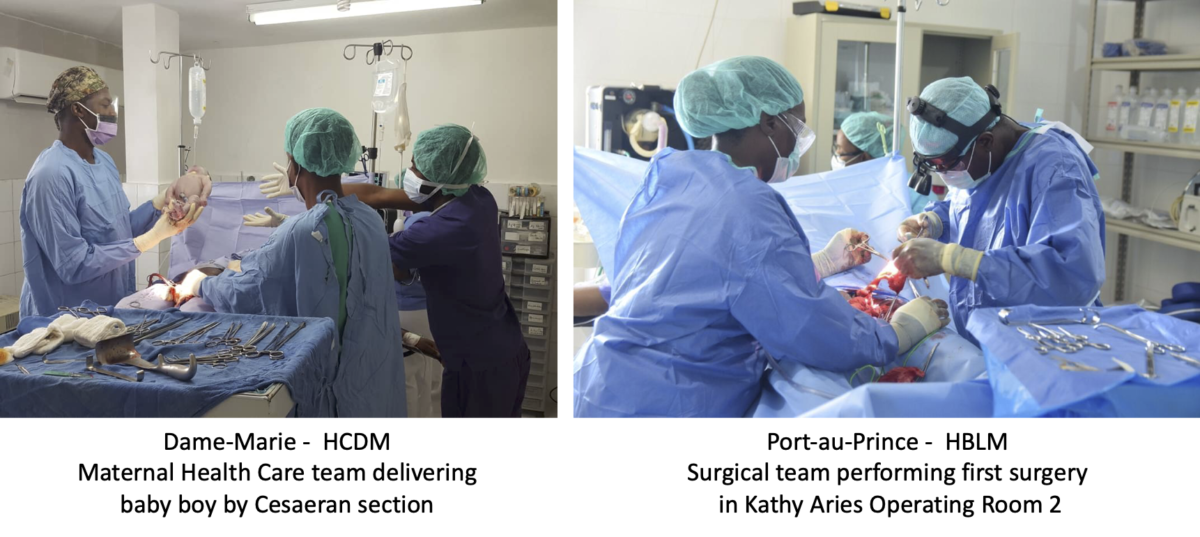 PROGRESS  REPORT
Dame-Marie Project — In the month of June, a new rotational Maternal Health Care team performed 6 emergency Cesarean sections, 17 natural births, and conducted over 200 prenatal / gynecological consultations and 30 ultrasound examinations.
Port-au-Prince Project — Another milestone was achieved with the opening of the Kathy Aries Operating Room 2 at HBLM with the first surgical cases performed in July.  This will also allow for emergency Cesarean Sections to be performed.   A revised  clinic schedule has been implemented to accommodate social distancing and cleaning / sterilization processes, while keeping primary and emergency care accessible.
We extend our greetings to you and your families with hope that you remain safe and healthy, and sincere thanks for your continued generosity.
Why MATH needs your help
The country of Haiti is beset with more problems than any country should have to endure, and at the top of the list are astonishing poverty and mostly inaccessible healthcare. As one of the world's poorest countries, Haiti's over 10 million inhabitants live on less than $2 per day. Illness and disease often go untreated because of either the lack of healthcare, or the cost of it.
Medical Aid To Haiti (MATH) endeavors to provide much-needed medical care to those people in such desperate need in Haiti. We sponsor a Haitian-staffed mobile medical clinic that travels to locations in and around Port-au-Prince to provide consistent care 5 days per week. We also fund a full-time fixed clinic that operates 6 days per week. In Dame-Marie, a remote village on the west coast of the country, MATH sponsors a full-time Haitian surgical team that serves a population that did not have access to surgical services.  We further support these initiatives by sending US-based medical teams to Haiti, several times each year, to work side-by-side with our Haitian healthcare teams. 
Together, the services we support in Haiti – a mobile clinic and fixed clinic in Port-au-Prince and the surgical services in Dame-Marie – support nearly 17,000 patient visits annually. We are driven by the success and goals of our mission, and we rely on the kindness of our donors and the dedication of our volunteers to continue our efforts of helping Haitians heal Haitians.
AT MATH, our numbers continue to add up!
Days per week that our neighborhood clinics operate in Port-au-Prince
Number of patient visits at our neighborhood clinics in Port-au-Prince annually
Number of maternal healthcare visits in Dame-Marie annually
percent of donations that go directly towards helping Haitians and our mission
Number of Haitian employees at our neighborhood clinics in Port-au-Prince
Number of MATH volunteers that travel to Haiti annually

Get Our Emails
Signup for our newsletters to stay connected with our continuing mission. See how we are putting your donations to work and making a difference.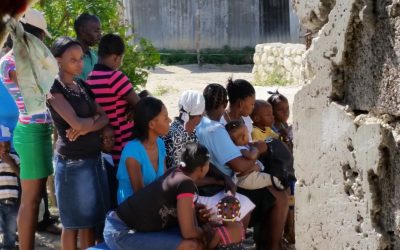 We miss working alongside our colleagues in Haiti.
Medical / Surgical / Non-Medical Skills Needed.
Please keep us in mind and join us when mission trips resume.
read more